April 16, 2000
Hehe,, see that.. 22:22.. cool.
Hehe,, see that.. 22:22.. cool. So I just got back from work. Fun day, Candace and I played hacky sack in box office for most of the day. even while we were serving tickets. Oh .. I gotta talk about last night. I had so much fun. Rick and Brendan were playing at Kramer's Corner (Brendan Furlotte kicks ass for those who don't know him.. and I think he kicks ass for those who don't know me) Al and I got a pitcher of draft and just hung out in the stairwell going up to Kramer's. I think it was his last gig in Moncton, he's gonna tour North America with Chris Colepaugh and the Cosmic Crew. He played kick ass stuff.. Al and I got ourselves another pitcher and we had a good time. Then Ned, Remi and the bachelor party.. party arrived! Woo!! We said our goodbyes to Brendan and then eventually landed here.. at my pad. Al and I kept drinking and talking, what a blast! Played 31. It's a card game.. like blackjack, but not. So that's last night. I'm eating Jalapeno Humpty Dumpty potato chips. Yum, they're very good. Sorry about yesterday's entry, I know it wasn't very long.. but hey! I'm the boss.. not that I think you think I'm not.. I'm just saying. Seems Caro is having computer trouble.. HAHAHAHA!! Sorry. I'm listening to Brendan as we speak now.. ah.. I love it. Geez.. I don't know what to do right now.
PrimaryVisualCortexStimulationOfTheDay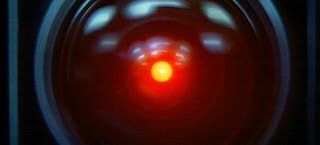 That is HAL. :) My mind is going. Goodnight.
---
Previous post
What an action packed night.
Went to the mall today, I think I want to buy a digital camera, and a DVD player.. and I want to own property on the
Next post
I'm back from work. We
got a Titan A.E. standee. Marc and I put it together during the night, he started and I basically finished it. Just one