March 31, 2004
10-4 there teddy bear
Soooo April 1st .. happy 4th anniversary to my blog. Today will be my last post.
…
April Fools .. like you didn't see that coming. As I promised, I'm going to try and beat my first month.. 86 posts.. this is number one of 86 . I'll be adding alot of pictures too, just like in April 00. So visit often, comment alot.. greener.ca is going to be the place to be .. kay maybe not.. there's going to plenty of updates.. 86 posts.. that more than 2 posts per day.. borderline 3 posts per day.. and now for
PrimaryVisualCortexStimulationOfTheDay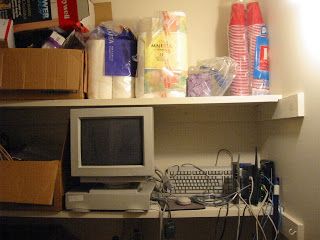 That's picker, our wireless routers .. the DSL modem .. and some toilet paper.. and I see some paper towel there.. a box of Kleenex (facial tissue) .. there's some cups left over from new years 02.
---
Previous post
y fait beau!
Ya pu d'neige sur la Main. Next thing you know e'j pourrais boire d'la biere sur une terrace. I've been watching alot of South Park .. it's
Next post
I wonder, wonder why the wonder falls
PrimaryVisualCortexStimulationOfTheDay So.. I've got alot of images I'd like to post now .. but my "thang" is